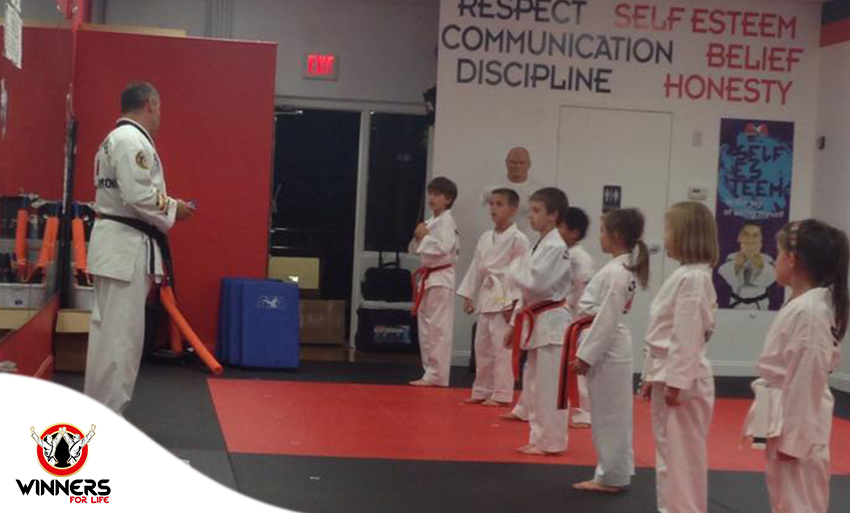 Martial Arts and Summer Camps
Posted: June 01, 2016
What was the best feeling you remember as a child? Mine would be the last day of school… the start of the summer holidays! It was like someone would take the shackles off of me, and every day was a new day. Another great adventure for me was the chance to go to summer camps.
Summer camps are a great way to occupy a child during the summer holidays and can really provide more than just a few days of freedom for the parents.
Summer camps can in reality offer a lot more to a child than we think at first. The same way a summer camp provides different things to a child, so does martial arts.
Extensive research and studies have shown that martial arts, when delivered correctly, can really benefit a child's growth, maturity, social skills, and development in general.
Let's analyze and lay out the benefits of summer camps for kids in conjunction with martial arts classes.
The first question that every parent has before making a decision to send his child to a summer camp is "why would I send my child to a summer camp?" Moreover, while reading this article you might ask yourself "why would I send my child to a summer camp which offers martial arts classes?"
It may come as a surprise to you, but both martial arts and summer camps more or less offer the same to a child. From social skills, character development to leadership skills. Imagine how beneficial it would be for your child to acquire and be introduced to all of the above skills and characteristics in only a few weeks. At this point it is important to distinguish martial arts from aggression and how it affects a child's personality. In the end of this article you'll find two tables with studies that show the positive effects of martial arts in a child's life.
5 beneficial factors that children can obtain by attending summer camps for kids that offer martial arts classes.
They learn how to become more active
Summer camps in general offer the chance to children and youth to get their face out of a screen and become children again.
Martial arts classes provide intense physical training that teaches kids the value of treating their body well. With obesity among young people and children growing rapidly worldwide, martial arts can be a step towards the right direction.
If you want to become a martial artist then you need to become very fit. Martial arts can be extremely beneficial for your kid's health and fitness.
They are exposed to a diverse environment
A key for a child's healthy development is his exposure to different environments than the ones he is used to. The chance to learn how to co-exist among his peers, learn to do chores and ultimately be taught the difficult lesson that without hard work you cannot achieve anything is undoubtedly important for any child. Children in an environment like the one summer camps offer are taught exactly that. If you add martial arts in the equation then the child's growth and development can really be positively affected during the few weeks of a summer camp. Learning to fit and do your part, as part of a group will do wonders for any child.
They gain self-confidence and self-esteem
Mothers, please do not be offended, but kids need their freedom outside the family safe zone to gain self-confidence and self-esteem. As shown in studies that we were conducted in 1986, 1994, 2004 and 2009 (all included in the table in the end of the article) martial arts can play an important role in the healthy growth of both self-confidence and self-esteem. One basic rule of martial arts is that through self-awareness you learn the true meaning of confidence, self-esteem and respect for others. Contrary to the belief that many people have about martial arts, they actually turn the children's attention from their selves and focus it on respect to others.
They are taught social skills like resolving conflict
Summer camps for kids that offer martial arts classes also provide important social skills to children as well as ways to resolve conflict in a non-violent way. Children are taught to channel their anger and temper through exercises and techniques that will accompany them throughout their entire life. Learning how to solve problems without turning to violence both verbal and physical is crucial for the child's well-being. By using martial arts techniques and self-discipline children learn that the answer to someone's angry and hurtful words is not violence. For example, the first thing you learn when Sifu is taught is that words are not grounds for a fight. Children learn to behave properly and by doing that they create friends instead of enemies.
The development of interests that are beneficial for both mind and body
It is more than true that summer camps for kids are the perfect environment for children to develop lifelong passions about interests. I cannot think of anything better for a child than an interest that he or she is passionate about which at the same time is beneficial for both mind and body. People who do martial arts are taught to dig deep and witness by themselves their external and internal selves. They are taught that both are important in order to grow into a genuine martial artist and ultimately as a person. They learn how to overcome feelings like fear and put in action others like courage. They are taught that a healthy body and mind means a healthy person.
If you are a parent and you are looking at summer camps I would advise you to take a closer look at summer camps for kids that offer martial art classes. These camps can be fun, challenging and surely beneficial on many levels for any kid. Finally and as this article comes to an end don't neglect to take a look at the tables below to better form an opinion about martial arts and their effect on children.
PERSONALITY
Year
Author
Sample size
Target group
Methodology
Martial Art
Measured effect
Positive or negative effect

1986

Trulson

34

Youth

Longitudinal

(type of guidance)

Taekwondo

Anxiety, self-esteem and social adroitness

Positive among traditional MA

1994

Kurian et al.

72

Youth

Cross-sectional (level of experience)

Taekwondo

Self-reliance and enthusiastic optimism

Positive among advanced MA

2004

Lakes & Hoyt

193

Youth

Longitudinal

(school-linked program)

Taekwondo, control

Cognitive and affective self-regulation, prosocial behavior, classroom conduct, performance on a mental math test

Positive over time among MA

2009

Steyn & Roux

72

Youth

Cross-sectional (comparison different groups)

Taekwondo, hockey, non-sport group

Personal growth and self-acceptance

Positive among MA
*Chart created based on studies by the Sports Science & Medicine Journal
AGGRESSION
| | | | | | | | |
| --- | --- | --- | --- | --- | --- | --- | --- |
| Year | Author | Sample size | Target group | Methodology | Martial Art | Measured effect | Positive or negative effect |
| 1991 | Skelton et al. | 68 | Youth | Cross-sectional (level of experience) | Taekwondo | Aggressiveness | Positive among advanced MA |
| 1992 | Daniels & Thornton | 79 | General | Cross-sectional (level of experience) | Karate, ju jitsu, badminton, rugby | Hostility | Positive among advanced MA |
| 1994 | Edelman | 15 | Youth | Longitudinal (school-linked program) | Aikido | Hostility and aggressiveness | Positive over time among MA |
| 1999 | Lamarre & Nosanchuk | 51 | General | Cross-sectional (level of experience) | Judo | Aggressiveness | Positive among advanced MA |
| 2001 | Zivin et al. | 60 | Youth | Longitudinal (school-linked program) | Kempo | Hostility and aggressiveness | Positive over time among MA |
| 2002 | Reynes & Lorant (b) | 9 | Youth | Longitudinal | Karate, control | Aggressiveness | No effect compared to control, positive effect compared to judoka |
| 2009 | Steyn & Roux | 72 | Youth | Cross-sectional (comparison different groups) | Taekwondo, hockey, non-participants | Verbal aggression and hostility | Positive among MA |
*Chart created based on studies by the Sports Science & Medicine Journal